The properties accommodate a total of 10 guests in six bedrooms with six bathrooms. The rooms are all decorated in country house style, well equipped with wifi and 5-star comforts.  The Dining Room sits 8 comfortably around an oval table. You can seat up to 14 around the Garden room table, and 8 -10 around the wooden table on the terrace.  In the summerhouse, you can sit and listen just to the sound of running water, read all day or all gather for tea or drinks before dinner.
The main house kitchen is a particular delight. Design input from a leading chef helped create heaven for any keen cook. If, however, you don't fancy being stuck in the kitchen, let us know. Subject to availability, we can arrange a Chef for you.
The old house now has (hidden) 21st century eco-friendly technology – solar water heating, rain water captured for drinking and bathing, biomass heating for the house, and very thorough insulation. The old rugs, paintings and books represent half a life's collection. The Cottage is now heated by an Air Source pump.
The beds are a host's secret weapon.  If a guest doesn't come down in the morning talking about how comfortable the beds are and how deeply they have slept, heads are hung in failure.
Pets allowed (max 1 dog).
1. Garden Room
2. Boot Room
3. Sitting Room
4. Sitting Room
5. Kitchen
6. Dining Room
7. Study (with Sofa Bed)
8. Utility Room
9. Pantry
10. Laundry Room
11. 'Hotel du Vin' Bedroom
12. Double/Twin Bedroom
13. Master Bedroom
15. Dressing Room (Single Bedroom with 2 lockable doors between this + Master)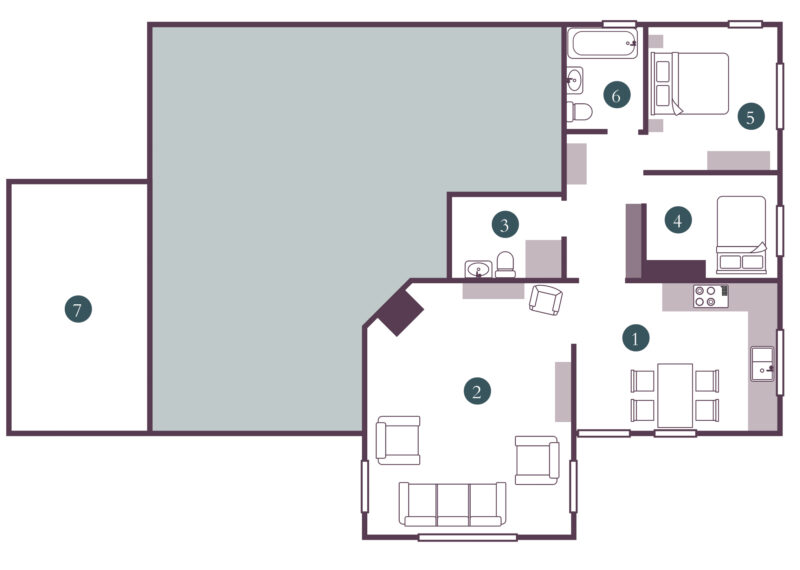 1. Kitchen
2. Living Room (with sofa bed)
3. Bathroom/Utility
4. Smaller Double Bedroom (Queen Bed)
5. Large Double Bedroom
6. Bathroom
7. Log Store & Recycling/Waste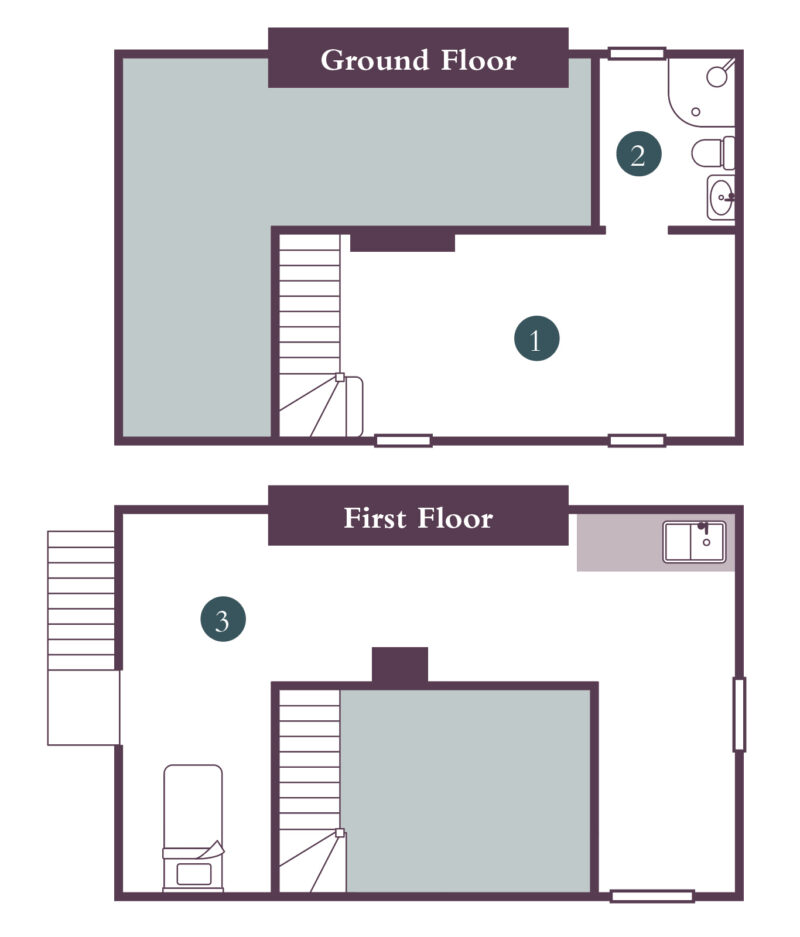 1. Gym
2. Bathroom
3. Loft (with Double Day bed)